And just as the cherry blossoms are in bloom at the back of Burrard Station, VR projects are starting to sprout all over the city. Did anyone catch the #604STACKS Ready Player One activation during the Junos? How cool is it that we had such a dedicated display of a VR-centric exhibit in the heart of downtown? Are you planning on checking out the film this weekend?
Feel free to discuss your thoughts in our Discord server! We are always happy to banter about all things tech and local. We are in the midst of cleaning up our Slack channel, but once it's up and running, we're looking for champions who are happy to keep the conversation alive and greet newcomers.
Vancouver VR Community News
Can you believe it's been only a year since we started the beginnings of what the Vancouver VR Community is today? To celebrate, our team created a love letter to our city, our love for immersive tech, and what we've accomplished together. Check out our one year birthday video:
You can also view it on Twitter and Facebook. Pick your social media poison, and share it with your friends!
After hosting the city's first VR focused Global Game Jam, we took a break (hosting a 4 day event is hard work, who knew!), and on April 4, we will be doing our first regular programming event of the year. The event is already sold out, but please join our waiting list. Join the list today!
We're keeping things simple: bringing back the community roundtable, some of our jammers will be talking about creating a VR experience over the course of a GGJ weekend, and lastly, we're happy to have Archiact VR Games' come back with the wonderful Ed Lago, presenting Hidden Fortune on the HTC Vive Focus, which is currently only available in China.
We will also be celebrating Free Comic Book Day at Metropolis Comics and Toys in Burnaby. Feel free to come on by!
Virtro Games patches Run Dorothy Run, reveals new GearVR project, and launches the VRAR.Academy
Virtro Games has been hard at work, revealing a new space squadron title, and patching up Run Dorothy Run according to community requests! (Along with a generous price drop on the PlayStation store!)
New Space Squadron (yet to be named) game progressing nicely. Can't believe how playable it is already! Oh – name idea's greatly appreciated #VR pic.twitter.com/Df1JS5oGTy

— Virtro Entertainment (@VirtroGames) March 12, 2018
But the biggest news comes from their latest and greatest educational offerings for anyone who wants to start developing for VR in a classroom setting. Check out: vrar.academy and have a look at the Georgia Straight feature on the VRAR Academy as well.
Blueprint Reality ditches the green screen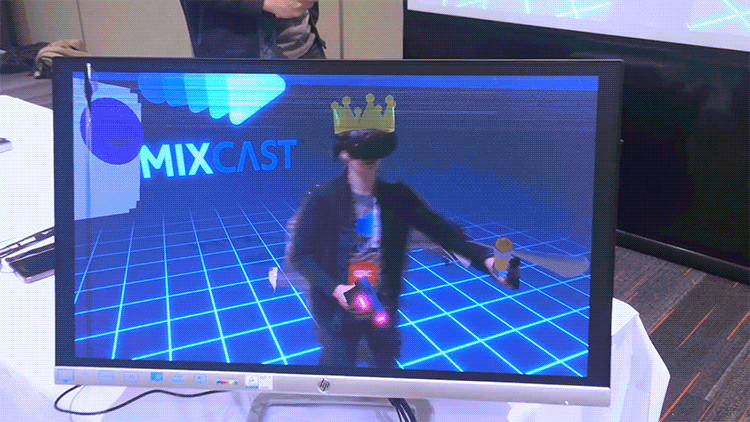 Blueprint Reality was at GDC 2017 last year, and we set up our demo as usual—PC, VIVE, projector showcasing our real-time mixed reality (MR) capture—except for one key difference. This is WildKey™: our upcoming solution for MR background removal even when you have little to no control over your surroundings, with green screen or without. By using Intel's all new RealSense D435 Camera we can isolate our subject through depth data, rather than chromakey. This new feature will be available to the public in our 2.0 Release, which is coming April 19th.
Super exciting news, and Blueprint Reality nailed this one! Stay tuned for more, and in the meantime check out the full blog post on their official blog.
Archiact VR Games announces two more hero classes for Evasion
As the Evasion team prepared for GDC, they announced two more hero classes to debut in their new demo build. Check out the full announcement reveal on UploadVR!
Orange Bridge Studios' END SPACE is now on Steam!
First it was on the Samsung Gear, it kicked so much ass, it expanded into a PSVR title, and now it's finally here for PC VR folks: END SPACE is on STEAM! Save 25% off in celebration of the release!
Ready Player One activation at the Vancouver Art Gallery
Reppin' @VRVancouver today at the #604STACKS. Must have been so much fun to design that set for folks to enjoy – I sure had fun photographing @Megasteakman! #imaxrposweepstakes pic.twitter.com/nkwpVb2pNx

— M. Lovecraft (@VRmyofDarkness) March 25, 2018
To celebrate both the release and the Juno Awards, there was a Ready Player One exhibit at the Vancouver Art Gallery, along with a huge lineup to try the OASIS experience. Did you check it out? Show us your photos of the #604STACKS!
Vancouver Web Fest has a VR Day!
Vancouver Web Fest runs from April 19 to 21, and our city's very own Hammer & Tong will be running a VR cinematic workshop. Check out the site for more details.
Congrats to VRARA companies who are showcasing at TED2018!
The VRARA Vancouver will attend TED2018, along with local companies Archiact, Cognitive 3D, LlamaZOO, Ziva Dynamics, Finger Food Studios, and Precision OS, and represent BC's VR/AR industry to an international audience.
Full details on the VRARA blog.
Come learn about Circuit Stream's 10-week 
VR/AR Development with Unity
 online training program and receive a free 1-hour trial class from two Circuit Stream instructors!
Circuit Stream is hosting a free Online Introductory VR / AR Workshop and Course Info Session!
Use the link below to attend April 10th, 7:00pm:
Register: https://signup.circuitstream.com/intro-vr-east
Join and learn the skills in Unity to create VR and AR!